Great success all the way for the recently concluded Milano Coffee Festival, the first Italian festival entirely dedicated to coffee. Ten thousand visitors, comprising enthusiasts and trade operators, flocked to the Spazio Base location in via Tortona, where tasting sessions, workshops and in-depth discussions were put on to reveal the thousand and one nuances of this versatile beverage.   
The event was a triumphant success and the organizers are already planning the second edition. 
As part of the event, Caffè Hardy promoted two very special activities which pleasingly surprised the public and marked a turning point in the use of coffee in starred restaurant kitchens, thanks to pairings artfully played out between simplicity and refinement. 
---
During the days of the event, the Hardy stand was particularly crowded thanks to the fascinating workshops conducted by Gianni Cocco, "Italian Coffee Trainer" for the Accademia Italiana Maestri del Caffè (Italian Academy of Coffee Masters) (AICAF), who created an innovative recipe to enhance the properties of coffee and the bond between raw materials and their land of origin. 
Cocco has actually aromatized a cocoa bean from Perù – an unprecedented experiment – with a hot espresso coffee made from the Hardy Perù blend. So, two products from the same geographical area become the basic ingredients of an unusual dessert which stands out from the already vast market offering of coffee filled chocolates and chocolate coated coffee beans.   
Finally, the Italian Coffee Trainer amazed bystanders with his incredible talent for latte art which enabled him to transform cappuccinos into delicious little works of art.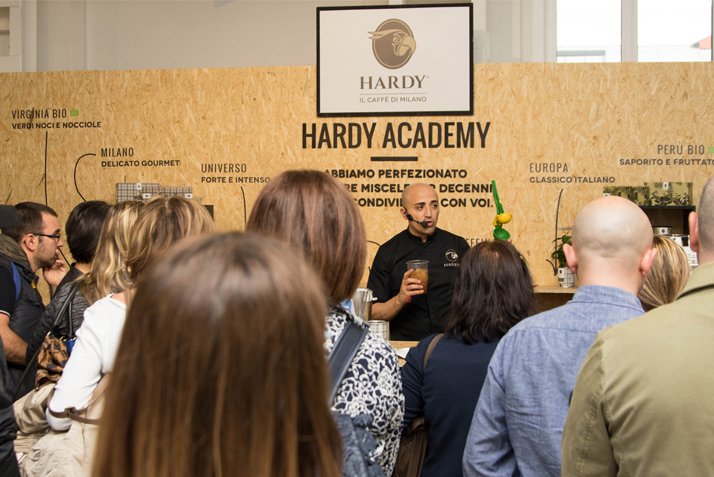 ---
The Hardy space aroused the curiosity of many visitors, also thanks to the talent of Davide Pisano who used a selection of Hardy blends in his impromptu preparation of desserts, whose spectacular impact was matched only by the harmony of their taste.  
With a lightly roasted Hardy Milano blend whose refined flavour recalls that of an infusion, he created a white chocolate bavarois with a creamy coffee centre. In contrast to the general trend in pastry-making, where this beverage is used to regale strong sensations, Pisano has highlighted its more subtle nuances which enhance rather than overpower the other ingredients.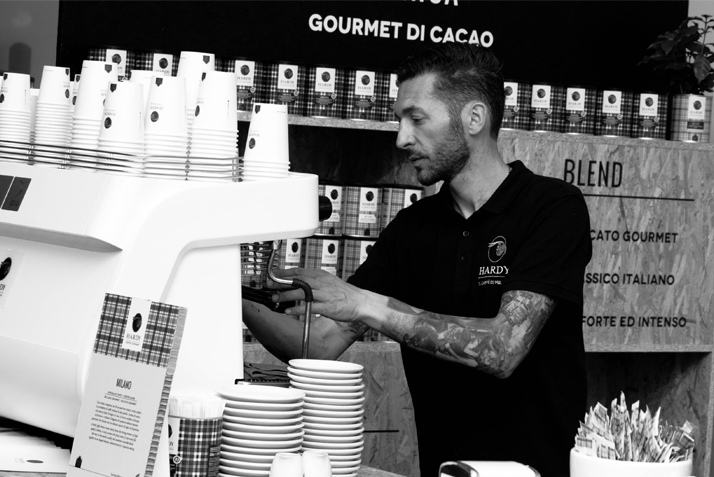 ---
Hardy's promotion of the coffee culture has now extended to the other side of the ocean.  
In fact, the brand participated at the Bellavita Expo in Chicago, from 19 to 22 May, which is the most important event focused on the excellence of Italian fine food and wine specialities.  
Among the hundreds of companies taking part, the coffee with the parrot trademark was also there to represent the prestige of the Made in Italy label, inviting buyers and trade professionals to discover the quality and variety of its blends.  
Caffé Hardy not only allowed the public to taste and discover the everyday ritual dearest to the Milanese, but also paved the way to innovation, by presenting new ways to enjoy espresso coffee.