My family gave me an important surname in the coffee world.
A surname that has been identified as the coffee of Milan for many generations and that has had great influence on my life and on my decisions.
When I was twenty-six years old I started working for the company, as my father and my grand-father had done before me and hopefully my children will do one day as well.
Today I tell them our story. I show them the discoloured pictures of the first cafè opened by their grand-grand-father and his brother in 1954 in the historical neighbourhood of Giambellino, totally unrecognizable today. In some old postcards a Hardy van can be seen delivering freshly roasted coffee sacks in every corner of the city: on the wheel, a fierce woman with piercing eyes: the wife of one of our sales representatives at that time.
A more recent picture shows me lying on raw coffee sacks in our warehouse, and it is often cause of laughter for my children. I hope one day they'll understand how satisfying this direct contact can be and will be able to appreciate the complexity of this incredible product, from roasting to packaging.
The long economic crisis of the 70's has never undermined our confidence and our focus; it was a moment of development and expansion for the company: new ideas, new products, and new advertising campaigns. Hardy was pushed by the determination and the ideas of people who were already looking beyond. In the 80's the company consolidated its success in the coffee market thanks to a growing number of customers who are still showing their fidelity today, and have contributed to the recognition of Hardy's as "The Coffee of Milan" - il Caffè di Milano - as it is still perceived nowadays.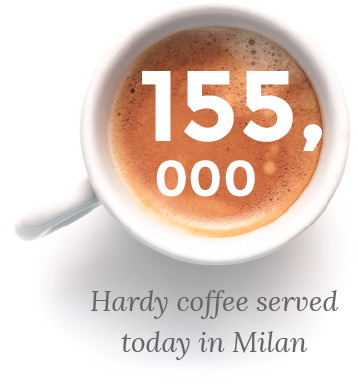 In the 90's I started my apprenticeship within the company, from warehouse to administration, and then, after a few years, I started my managing career next to my father Edoardo. Despite the sleepless nights at the desk, the never-ending meetings and long business travels, I wouldn't change anything of this incredible journey. In 2005 we realized we needed new premises, in order to grow up and improve: we transferred our production to a modern roasting facility in Noceto, near Parma, and moved our offices and warehouse to a new location, still in Milan.
Our products are vegan certified, and have been so for several years: in 2015 this brought us to decide to include also two organic certified blends. Today this is a common trend in the coffee market, followed also by other leading brands, but we are proud to say we anticipated it.
Every day we export our coffee in distant countries; beans, ground coffee, and also various types of capsules: through our distribution we have entered far away markets, such as USA and China, while Internet and the global market allow us to reach our end consumers everywhere, thanks to our on-line shop and Amazon Marketplace.
Our participation at Expo2015, Enjoy the Table, TuttoFood, Milano Unica, MIPAP, MU On-Board e Host has awaken the glam soul of our company, which has always been there, but never really shown off. There is a project I particularly care about, called "Always in Fashion", which ties a new bond between our company and the city of Milan, recognized world capital of fashion and centre of the international fashion system.
This is our history: a successful past, a present which will always be grateful to our faithful customers, and a future rich of projects and possibilities.
Alberto Maja